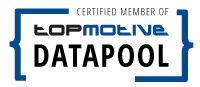 Ordered before 13:30h, dispatch on the same working day!
PLEASE SELECT YOUR VEHICLE
Sensors Temperature sensor
Exhaust gas temperature sensor (EGTS) – temperature sensor
The temperature upstream of your particulate filter / soot particle filter is measured with an exhaust gas temperature sensor. This exhaust gas temperature sensor (EGTS) is located upstream of the diesel oxidation catalyst (DOC) or upstream of the diesel particulate filter (DPF) in your exhaust system and screwed in. This sensor detects the temperature in the exhaust stream from your exhaust system and sends it to your vehicle's engine control unit (ECU) for recording. A predetermined exhaust temperature is necessary to initiate and complete a regeneration process of your diesel particulate filter. An unfinished particle filter regeneration will be repeated with every new journey until the regeneration could be completed. A functioning EGTS (exhaust gas temperature sensor) is very important for the longevity and functionality of the particulate filter in your exhaust system.
Is it still possible to drive with a defective exhaust gas temperature sensor?
Yes, this is possible, as long as the engine control unit does not trigger emergency operation for such a fault. However, it is urgently necessary to have a defective exhaust gas temperature sensor professionally replaced immediately.
How do I know that the exhaust gas temperature sensor is defective?
If the AGTS is defective, the regeneration of your diesel particle filter can no longer be completed or initiated. This is noticeable on the vehicle through:
Higher fuel consumption
Lower performance
Increased emission values
Warning light for AGTS lights up or flashes
Warning light for DPF illuminated or flashing
Engine indicator light is on
How much does an exhaust gas sensor cost?
The price varies widely and can range from 50,00€-6000€ for OEM AGTS to 280,00€ for OE temperature sensors. We only offer OEM AGTS which correspond to the original sensors in terms of function and design. It is not always necessary to have an original spare part from your vehicle manufacturer installed to ensure that your vehicle is repaired in line with its current value.
How expensive is the replacement of an exhaust gas temperature sensor?
If the workshop can get to the defective AGTS on your vehicle without any problems, then the replacement including teach-in should not take longer than one hour. Including the temperature sensor, you will then be looking at 120.00€ - 150.00€. If the workshop carries out a regeneration drive, another hour's labour is usually added.
Why does an exhaust gas temperature sensor fail?
A failure of your AGTS can have the following causes:
Power supply is faulty.
Broken cable or defective connector.
Damage to the sensor due to vibration or impact.
Faulty / too high fuel injection, resulting in too high exhaust gas temperatures.