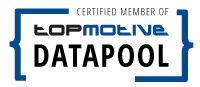 Ordered before 13:30h, dispatch on the same working day!
PLEASE SELECT YOUR VEHICLE
Sensors DPF differential pressure sensor
Differential Pressure Sensor (DPS) - Exhaust Pressure Sensor - RPF Pressure Sensor
In the exhaust system of your vehicle, the differential pressure sensor measures the pressure upstream and downstream of the diesel particulate filter, i.e. the difference between the two measuring points. This pressure difference is used to determine how heavily the DPF is already loaded with ash. If the contamination/loading is too high, the engine control initiates a regeneration process of the diesel particulate filter. If the sensor is defective and/or not functioning properly, there is the risk that the DPF will not be generated in time and will therefore be so heavily loaded that it can no longer be regenerated properly.
If the back pressure in the direction of your engine becomes too high due to this RPF blockage, expensive damage can occur to the turbocharger.
An early replacement of the exhaust pressure sensor must be carried out immediately.
We always recommend replacing the sensor when changing the diesel particulate filter.
When must the exhaust pressure sensor be replaced?
If the differential pressure sensor fails, which is usually indicated by the indicator light in the vehicle cockpit, the sensor must be replaced immediately. In this way, you avoid consequential damage to the diesel particulate filter and turbocharger.
Do RPF pressure hoses also have to be replaced?
If the pressure hoses are clogged and are not replaced when the particulate filter is replaced, the differential pressure sensor will not give accurate readings to the engine control unit and consequential damage may occur.
Do the pressure lines from the RPF also need to be replaced?
The pressure lines are usually installed on the new RPF or can be purchased with the new RPF. It is difficult to reuse and clean the old pressure lines. We recommend always using new pressure lines to avoid consequential damage.
What is the difference between pressure lines and pressure hoses on the diesel particulate filter?
The pressure hoses connect the pressure lines of the DPF with the differential pressure sensor and are flexible made of rubber. The pressure lines are firmly screwed or welded to the diesel particulate filter.
What is the differential pressure offset for a DDS / differential pressure sensor?
The so-called offset value is a pure correction value. It reflects the respective property of the pressure sensor. If the vehicle is stationary and not started, the differential pressure is ZERO. At this point, some differential pressure sensors have an offset. This is referred to as a technically induced zero offset.