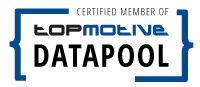 Shipping at the latest on the next working day at 1 p.m.
We offer you the following payment methods. Just choose the payment method that suits you best. The shipping costs are partly dependent on the chosen payment method
PayPal
PPayPal is the online payment service with which you can pay securely, simple and fast in online shops - free of charge.
Secure: Your bank or credit card details are only stored with PayPal. That's why they are not sent over the Internet again with every online purchase.
Simple: You pay with two clicks. You use your bank or credit card details stored with PayPal instead of re-entering them with every purchase.
Fast: PayPal payments arrive quickly. The seller can ship the goods immediately and you will usually receive them earlier.
Register and use PayPal immediately:
• Link your bank account or credit card to your PayPal account.
• And you can already pay with PayPal.
Prepayment by bank transfer
We will send you an order confirmation and the invoice by email after your successful order. As soon as the invoice amount has been credited to our account we will ship your goods on the same working day. You can speed up the dispatch if you send us a copy of the bank transfer by email..
Konto : ConTra-Automotive GmbH
Bank : Sparkasse Holstein
IBAN : DE69 2135 2240 0179 1586 88
BIC : NOLADE21HOL
GIROPAY
How do I use GiroPay?

GGIROPAY has been specially developed for online purchases and there are no more annoying days between transfer and dispatch of the purchased items as with normal advance payment by bank transfer. GIROPAY couples online banking with the payment process in the online shop. If you choose giropay, you will then be directed to the website of your bank and send the invoice amount as usual via TAN. We immediately receive a confirmation that the amount has been transferred and send the ordered goods to you the same working day.
CREDITCARD
Payment by credit card, what should I pay attention to?
1. If your card is not accepted, it is usually for one of these reasons:
a. Check all the data you have entered. Delete the numbers and start over, a small error in the credit card number will stop the payment immediately.
b. Has your card perhaps expired?
c. Towards the end of a month you may also have reached the limit of your credit card.
2. As the last it is also always possible that in our shop system is a mistake. If you should not get further despite the tips, please call us and we will help you immediately. Phone: +49 4533 799 000, or by e-mail to info@contra-automotive.de

Apple Pay
What is Apple Pay?

You can only use ApplePay if you have registered with Apple for the payment method. It works similar to PayPal, you log in to ApplePay and deposit at least one of your bank details and/or credit cards. After that you can easily pay bills everywhere with your iPhone without having to carry your EC or credit card with you. This works for payment in online shops as well as offline in normal shops.
Klarna invoice purchase / instalment purchase
How can I pay with KLARNA invoice purchase / hire purchase and what are the advantages?

This method of paying your bill is not available in all EU countries.

If you choose Klarna invoice purchase or Klarna hire purchase, we will ship your item immediately on the same working day if you order before 14:00h. Klarna carries out a credit check on every customer and it is very important that your personal details are correct and complete. After buying through KLARNA you will receive an order confirmation and an invoice from Klarna, according to the conditions you have chosen for the hire purchase. We send the item immediately and then send you a delivery note with the tracking number of your package.
If you have any further questions, please contact Klarna directly at: https://www.klarna.com/de/kundenservice
*our web pages contain links to other Internet sites. We have no influence on whether their operators comply with the data protection conditions and accept no liability for their content or the accessibility of their websites.
iDEAL
Real time payment method. Very secure through two-factor authentication. Your goods will be processed and shipped immediately after confirmation from your bank.
Bancontact
A secure payment method in real time with immediate payment confirmation to us for all our customers who have an account in Belgium.
EPS - Austria
Electronic Payment Standard EPS is a payment method developed by several Austrian banks and is probably the most visible payment method in AT. Even if you choose this payment method, the goods will be sent to you immediately.
KBC/CBC
Is a payment button of the largest Belgian credit card banks. As a Belgian customer, you select the KBC button and are directly forwarded to your usual online banking environment. Here you only have to decide how you want to give your payment consent.
ING Home´Pay
Customers of ING Bank pay conveniently online via ING Home'Pay. Payments are guaranteed to be received as soon as they are authorised. We ship your items on the same working day immediately after confirmation by the ING system.