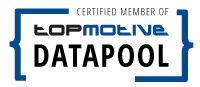 Shipping at the latest on the next working day at 1 p.m.
PLEASE SELECT YOUR VEHICLE
Montagematerial Fitting kit (DPF) JAGUAR
Ihr JAGUAR benötigt einen Ersatzpartikelfilter?
In unserem Webshop können Sie Austauschpartikelfilter für Ihren PKW von Jaguar kaufen.
Sie können diese große Auswahl eingrenzen, indem sie Modell (Tucson, Genesis, ...) und Motorisierung angeben. Sollten sie über die KFZ-Teilenummer in Form einer OE Nummer verfügen, geben Sie bitte diese oben rechts in der Freitextsuche ein, um direkt zum passenden Ersatzpartikelfilter zu gelangen.
Momentan führen wir keine Partikelfilter zum Nachrüsten!